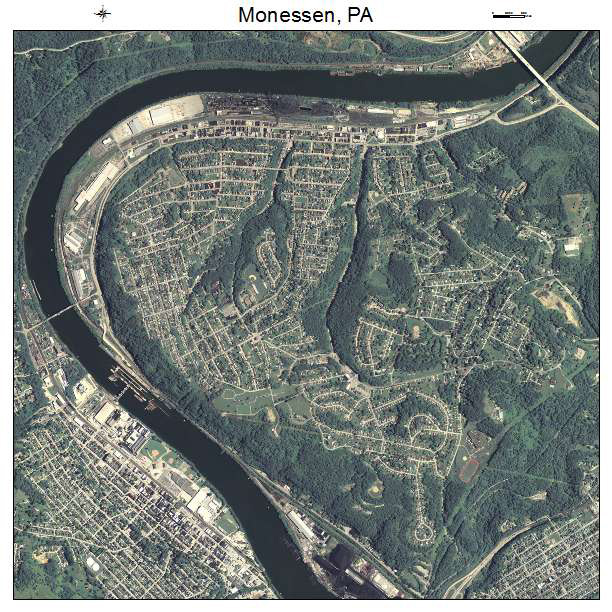 History of Monessen, Westmoreland County, PA.
From: History of Westmoreland County, Pennsylvania
By: John N. Boucher
Published By: The Lewis Publishing Company
New York, Chicago, 1906
Of the towns and cities that were built the past forty years upon the banks of the Monongahela river, and there are many of them, the borough of Monessen is above all the most remarkable, both for its industrial activity and phenomenal growth, a real beehive of industry. Situated on the right bank of the river, its numerous manufactories line the shore for more than a mile. The residence part of the borough, which has now a population of ten thousand people, is built on three high ridges, with their intervening valleys.
In 1897 the East Side Land Company of Pittsburgh laid out the plot on which this sprightly city stands. Surrounded by every natural advantage, coal in great abundance from the neighboring mines, natural gas and an inexhaustible supply of pure water capital flowed in at once. The principal streets are well paved with Belgian block and vitrified brick. There is a complete system of modern waterworks, gas, electric light and sewerage.
The banking business is in the hands of three safely managed institutions, the oldest bank being the First National, opened February 17, 1900, with a $50,000 capital; S. M. Graham is its president. The People's National Bank was established November 14. 1901, with $50,000 capital; J. Irons is its president. The Monessen Savings and Trust Company, incorporated November 1, 1901, with $125,000 capital, commenced business April 1, 1902; E. F. Eggers is president. The private banking house of Roeb, Roth & Company transacts a large business, including its foreign exchange department.
The post office at Monessen does a large business, and handles more mail than many cities twice its size. The first postmaster was Colonel C. M. Derickson. The present incumbent is E. M. Frye. The office obtained free delivery service in July, 1904. The newspapers of the place are the following: The pioneer journal is the Monessen News (Republican), established by Charles E. Federman, 1899. He was succeeded in 1902 by C. L. Schuck. This paper is now a semi weekly. The Monessen Leader was founded in 1902 by John H. Thresher, and is now owned principally by the editor, H. R. Pore. The Daily Independent was established in 1903 by F. Householder.
The religious element is strong in Monessen and is represented as follows: Christ's Evangelical Lutheran Church was organized by Rev. C. J. Waltner, April 15, 1900. A good edifice was dedicated May 5, 1901. The Sumoi (Finnish) Evangelical Lutheran Church was dedicated June 15, 1902: The Christian Church, a frame building, was dedicated in 1902. A Greek Catholic Church. costing many thousand dollars, stands as a monument to this denomination. on the heights overlooking the beautiful valley. The Roman Catholic Church has a very large basement, built of stone and temporarily covered with iron roofing, in which the congregation worship. Plans are being made to build a fine superstructure the coming year. The Methodist Episcopal people built a church in 1900, and remodeled it in 1905. This is a substantial frame structure. An English-German Evangelical Lutheran Church was dedicated May 5, 1901. The Presbyterian Church was dedicated June 20, 1901. The United Brethren building was dedicated August 1901. The United Presbyterian people still worship in a private building over the News office. The other religious organizations are the African Methodist Episcopal, the Protestant Episcopal, the Baptist, and the Swedish Lutheran.
Much attention is paid to the public schools of the place. Four attractive school buildings accommodate the pupils enrolled.
Monessen is supported almost exclusively by the large pay roll coming as a result of her numerous and very extensive manufacturing plants.
The Monessen Tin Plate Works of the Steel Corporation is one of the largest and most thoroughly equipped tin plate plants in the world. It was established in 1897 by putting in operation an eight mill establishment. The concern was soon absorbed by the American Tin Plate Company, one of the foremost constituent companies in America. It is now fully three times its original size, and has twenty five hot mills, forty five tin sets, and an annual capacity of 1,350,000 boxes of tin plate. In the plant 1,400 workmen find steady employment. Over 1,200 tons of sheet bars are required each week.
The American Steel Hoop Company's works cover an area of fourteen acres. It is a three mill plant in which 500 men are constantly employed. They handle about twenty tons of steel billets worked into skelp, hinge stock. barrel hoops and cotton ties, each working day. There are two continuous furnaces, and the fuel employed is natural gas. This factory never shuts down, but works day and night shifts, and was founded March, 1898.
The Page Woven Wire Fence Company consists of open hearth furnaces, blooming, billet, rod and wire mills, fence weaving and machine shop departments. Seven hundred men are constantly employed. The daily capacity is twenty tons of rods and one hundred and fifty tons of high carbon wire, used for the making of the world famous electric weld "Page Woven Fence." This brand of woven fencing is used by 700,000 farmers and stockmen, and foreign countries purchase large quantities of it. J. Wallace Page is the president of the company.
The Monessen Foundry and Machine Company was established in 1900. They produce iron and brass castings weighing from one fourth of a pound to twenty tons each. The daily capacity is forty tons, and 125 men are employed regularly in these works.
The Pittsburgh Steel Works is another extensive producing plant of the borough. At first the shops occupied twenty four acres in the center of a ninety six acre tract of land, but they are now very much more extensive. Several buildings are 200 by 1,200 feet, and the wire rod mills of this plant produce annually 125,000 tons of iron rods. The one hundred and seventy five wire nail machines have a capacity of 1,300,000 kegs of nails per year. In their wire fence department above there are in daily use fifteen electric welding machines and sixty barbing mills producing the celebrated "Pittsburg Perfect Barbed Wire." It operates its own gas plant, giving both light and fuel to the entire works. Mr. George Nash is the general manager.
The railroads passing through Monessen are the Pittsburgh & Lake Erie (steam) and the Pittsburgh Electric, both finely equipped steel highways. They have also the benefit of slack water navigation on the Monongahela river all the year except in the extremes of winter. It has twenty schools with 1087 pupils enrolled.
Founders of Monessen, Westmoreland County, PA
James Martinus Schoonmaker
(June 30, 1842 – October 11, 1927)
Col James M. Schoonmaker was the vice president of Pittsburgh and Lake Erie Railway Company, whose grand Pittsburgh terminal now serves a new era as Station Square.  A contemporary study of his life is the book, Col. J. M. Schoonmaker and the Pittsburgh & Lake Erie railroad; a study of personality and ideals, by Harrington Emerson.
He enlisted at age 18 in the Union Army and served during the Civil War, as Colonel of the Fourteenth Pennsylvania Cavalry.
Having greatly distinguished himself in his youth as a soldier during the Civil War, the late Colonel James Martinus Schoonmaker during his later career became eminent as a coal and coke operator, banker and railroad executive. A native and life long resident of the Pittsburgh district, he did much to develop t his section of Western Pennsylvania by his courageous building of railroad lines and by his able management of them. Few men of his generation rendered services of a greater importance to their native state and few men enjoyed .to a greater degree the respect, confidence and admiration of their fellow-citizens.
James Martinus Schoonmaker was born at Allegheny, now a part of Pittsburgh, June 30, 1842, a direct descendant of the early Dutch setters of New York. His parents were James Schoonmaker and Mark Clark Stockton. James was a student at the Western University of Pennsylvania when the Civil war broke out and enlisted in a local company of recruits which was assigned to the 1st Maryland Cavalry. During the ensuing thirteen months, he proved himself repeatedly in battle and in command of his troops.
On August 31, 1865. At the first Memorial Day ceremony of the Grand Army of the Republic, Colonel Schoonmaker was one of its leaders and for the next sixty years he paid homage to his comrades.
In commemoration of the fiftieth anniversary of the battle of Gettysburg in 1913, Colonel Schoonmaker was selected, as the outstanding Civil War veteran of the State of Pennsylvania.
When World War I broke out in 1914, Colonel Schoonmaker was one of the organizers of the Pittsburgh branch of the National Security League.
(Source, Title: Vol.5 Pittsburgh of today, its resources and people, by Frank C. Harper.)
Colonel James M. Schoonmaker married Rachel Cook of Cincinnati. They called their estate on the corner of Ellsworth and Moorwood Avenues "Vollenhouse".
Gretchen Vandervoort Schoonmaker (circa 1890 -?) Miss Schoonmaker was a noted sculptress.
William Henry Schoonmaker (circa 1890 – ?); lived in Montclair NJ
James M Schoonmaker Jr (Jan, 2, 1888 – Dec, 1 1940) married Mary C. ?
Col. Schoonmaker was director of Mellon Bank, the Union Trust Company and a member of the Duquesne Club.
He died Oct. 11, 1927 of peritonitis following an appendectomy.
William Henry Donner
(1864-1953)
Born in Columbus, Indiana, in 1864, Mr. Donner took over the family-owned grain mill while still in his twenties. In relatively short order, he restored to profitability what had previously been a failing enterprise. The acumen and energy he displayed were harbingers of the success that thereafter attended him in virtually every undertaking.
Before he was 30, Mr. Donner foresaw that the then recent discovery of natural gas deposits in Indiana would inevitably attract new industries to the area. He invested promptly–and with conspicuous success–in real estate. His foresight was rewarded, and the resulting profits largely financed his next major venture. Realizing that the demand for tin plate was increasing rapidly, Mr. Donner became interested in developing innovative technologies that could effect substantial savings in the manufacture of tin plate. By the time he was 30, he had launched the National Tin Plate Company of North Anderson, Indiana; three years later, having patented an ingenious rolling process for tin plate manufacture, he constructed another plant in Monessen, Pennsylvania. Eventually, he sold all his tin plate interest to the American Tin Plate Company.
Mr. Donner's next venture was in steel products. With the Mellon brothers and Henry Clay Frick, he founded a rod, wire, and nail enterprise, known as the Union Steel Company, of which he was President. Union Steel was based in Donora, Pennsylvania, a town whose name derives from those of Mr. Donner and Nora Mellon. The company was merged with the Sharon Steel Company in 1902, and was purchased in 1903 by the United States Steel Corporation. Mr. Donner later became President of Cambria Steel Company and then Chairman of the Board of the Pennsylvania Steel Company. His final business undertaking involved the purchase of assets which formed the Donner Steel Company of Buffalo, New York, an enterprise he operated successfully until selling his interest in 1929. In that year a merger of Donner Steel, Republic Iron and Steel, and two other independent steel companies was arranged by Cyrus Eaton.
After losing his son, Joseph, to cancer in 1929, Mr. Donner turned his formidable energies to the then infant field of cancer research. He established the International Cancer Research Foundation in 1932 to honor his son's memory. This pioneering Foundation made grants to a wide range of institutions, including one grant that established the Donner Radiation Laboratory at the University of California at Berkeley to support the innovative work of Dr. John E. Lawrence. The work of this laboratory provided the impetus for what later became the remarkable new field of nuclear medicine. In 1961, The William H. Donner Foundation was incorporated with the endowment originally established by Mr. Donner for the International Cancer Research Foundation.
Following his retirement from business, Mr. Donner spent much of his time in Montreal, where he supported the pioneering work of Dr. Wilder Penfield, then Director of the Montreal Neurological Institute. In 1950, Mr. Donner established the Donner Canadian Foundation, which today is one of the largest national foundations in Canada. William H. Donner died in Montreal in 1953.
Henry Sellers McKee
(March 5, 1843 – June 10, 1924)
According to McKee family researchers, H. (Henry) Sellers McKee was born on March 5, 1843 in Pittsburgh, Pennsylvania, (although on at least one occasion, McKee himself gave as his date of birth, August 9, 1842*). H Sellers McKee was the son of Thomas McKee (b: 18 Sep 1800) and his wife Henrietta "Hetty" Zillhart (b: 19 Oct 1809). Thomas was a native of Carlisle Pennsylvania, and Hetty, of Pittsburgh. Thomas was a glass manufacturer as were H. Sellers McKee's uncles, Samuel, John and Daniel McKee. His grandfather William McKee was also in the glass manufacturing business according to the Birmingham Twp. census of 1850. His grandmother was Mary Stewart McKee, daughter of Archibald Stewart, who can be found in many of the banking companies of Pittsburgh.
Henry Sellers McKee had 11 brothers and sisters who were all well to do residents of the Pittsburgh area. Most of them were in the family business of glass making. The original "McKee Brothers" who were with the McKee Glass Co. were Henry's brothers Frederick (b. 1827) and James (b. 1829) McKee–the two oldest in the family.
H. Sellers McKee married Jeannette E. Hartupee (family sources say she was born May 18, 1849 in Pittsburgh, died 18 Nov 1924 in New York City, NY). However, Mrs. McKee gave as her date of birth Sept 14, 1846 on the same occasion that HS McKee gave an alternate dob.*
The Social Mirror describes Jeannette E. Hartupee McKee as follows:
"Mrs. H. Sellers McKee, a large, fine-looking lady, although fond of society and active in charitable work, is moreover a devoted mother and fine housekeeper. The McKees live in a lovely Allegheny residence and keep their coach and pair. Mrs. McKee has a number of fine diamonds. Their worth is estimated at well over a million…"
Mrs. Jeannette E. Hartupee McKee was a Daughter of the American Revolution: DAR ID Number: 24373 Born in Pittsburg, Pennsylvania. Wife of Henry Sellers McKee. Descendant of Capt. William Hartupee and of Aaron Mershon. Daughter of Andrew Hartupee and Louise David Cook, his wife. Granddaughter of Aaron Hartupee and Isabella White, his wife. Gr.-granddaughter of William Hartupee and Jane Mershon, his wife. Gr.-gr.-granddaughter of Aaron Mershon and Mary Gapin, his wife. [p.134] William Hartupee, (1756-1844), served as captain of Middlesex County, New Jersey militia. He was born in Cranbury, N. J.; died in Pittsburg, Pa. Aaron Mershon, (1740-76), was a private in the New Jersey state troops at the battle of Long Island, where he lost his life. He was born in Trenton, N. J.
H. Sellers McKee was president of the First National Bank of Birmingham; glassmaker and developer of the use of natural gas in manufacturing. He was a member of the Duquesne Club. Calvin Wells, H S McKee, James W. Brown and M K Moorhead all served as directors of the Exchange Bank of Pittsburgh (established in 1836), located on Fifth Avenue between Wood and Market streets. Charles J. Clarke, Ruben Miller and H. Sellers McKee were directors of the Western Insurance Co, established in 1849.
The McKee Residence stood at 230 Ridge Avenue, Allegheny.
George Orlando Morgan
(January 30, 1847-April 12, 1929)
George O. Morgan was born on January 30, 1847, in Leroy, New York.  He was the son of the late Orlando Seth Morgan and Nancy Ward Fife Morgan, and came from one of the oldest American families.  He spent his youth in Canada, before moving to Meadville, where he purchased and ran a daily newspaper.  Later, he would manage two other newspapers in the Greenville, PA area.
He joined the Pittsburgh and Lake Erie Railroad as the land agent to extend the right of the way of the railroad toward the coal fields of West Virginia.  In 1894, with Colonel James M. Schoonmaker, the Vice President of the P&LE, and Henry Sellers McKee, his brother in law, the East Side Land Company was formed to create the town that would become Monessen, PA.  Joining him in the land company were Judge James H. Reed, his law partner, Philander C. Knox, and their office manager, George B. Motheral.
In 1904, he moved from Pittsburgh to the Sewickley Valley, where he spent the rest of his life.  He was a member of the First Unitarian Church of Pittsburgh.
His wife, Harriet McKee Morgan, was the daughter of the late Thomas McKee.  He had two sons, Stewart McKee Morgan and George O. Morgan, Jr., and a daughter, Mrs. William T. Shannon.
George Morgan passed away on April 12, 1929 at his home on Maple Lane, in Edgeworth and was buried in Allegheny Cemetery.